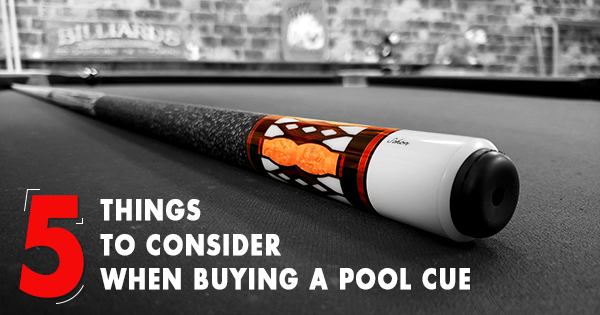 There are many purchases in your life that require a substantial amount of research prior to making a final decision. This process can be tedious and overwhelming, almost enough to make any power-shopper throw in the towel. Buying a new pool cue does not have to be one of those items.
Whether you're choosing a cue for yourself or as a gift for someone, here are five key things to keep in mind that will aid in your endeavor.
1. BUDGET - FIND THE RIGHT CUE WITHOUT BREAKING THE BANK.
For many of us, they type of cue we purchase may be based on the size of our pocket books. Well, rest assured. Finding the right cue doesn't have to break the bank. Your game WILL benefit from the consistency of any two-piece maple pool cue when compared to playing with wobbly, beat-up, old house cues. When setting your budget, a player's skill level should be considered for determining the appropriate cost of the new cue.

2. SKILL LEVEL - CONSIDER HOW SERIOUS THE PLAYER IS.
Most beginner players can find a dependable starter cue in the $100 range. Once a player starts competing in either leagues or tournaments, they may want to consider upgrading to something with a little more meat.















3. PERFORMANCE - PICK A CUE THAT DOES WHAT YOU NEED IT TO.
The more serious the player, the more sophisticated the cue technology may require. Predator cues come standard with a low-deflection shaft which is designed to increase accuracy and performance. This is my personal favorite brand when it comes to the low-deflection products. Other makes that also produce a comparable product include: CueTec Cynergy, McDermott and Meucci. Watch this video to learn more about cue ball deflection so you can decide if that technology would be right for your game!!
If the player does not require a high-performance cue, most cues (unless otherwise indicated) come standard ith a traditional maple shaft. To increase performance and the life of the cue, never store your cue in the leaning position or in extreme hot or cold conditions.
4. STYLE - CHOOSE A LOOK THAT FITS THE PLAYER'S PERSONALITY.
When debating on fashion over function, consider the level of the player (and your budget). Once you've determined the price range, skill level, and performance level of the cue that will limit your aesthetic options to a handful of selections. Generally, when within certain price ranges, the quality of the cue does not vary much. The difference in price then applies more to fashion over function.
Here are some good style options for cues under $200:
If you're someone that needs the "Latest and Greatest" equipment or something that will make others drool with envy you might lean toward the higher end styles:
5. WEIGHT/BALANCE - SELECT THE RIGHT WEIGHT AND BALANCE.
Now that you've found a cue that you love, what's the right weight and balance? Most cues are anywhere between 18 to 21 ounces in weight. That's right, the number you see indicates the total weight of the completely assembled cue. Most house cues are built with most of the weight in the butt of the cue. If the shooter is vertically challenged with a shorter than average arm span (like myself), a house cue will feel "butt heavy" and innately cause two possible things to happen: (1) the player will tend to grip the cue too far back to compensate, or (2) the player's tip will pull up during the follow through due to the excess weight in the back.
If you're on the shorter side, look for a cue that is more forward-weighted. In production cues, the weights in the butt are designed to be easily added or removed. Therefore the balance may vary based on the total weight of the cue. 19oz is the most popular and ideal weight in the back.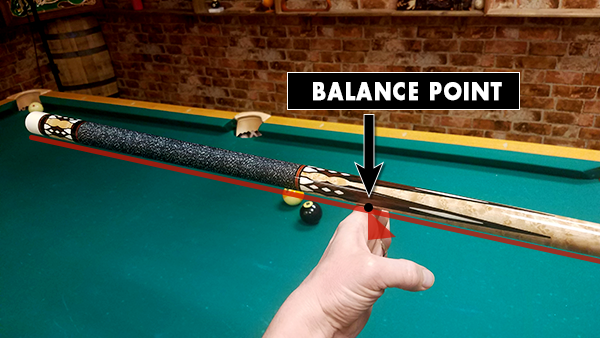 As a player improves and gets more and more serious, there may be a need for a designated breaking or jumping cue. These feature special technology for their respective functions and should require some research on their own. So, if you're in the market for a new pool cue either for yourself or for someone else, consider these five things and spend more time playing with the cue rather than shopping for it.